Six Shafts Type
Automatic Aluminum Foil /
Cling Film Rewinder
(AH-6S)
---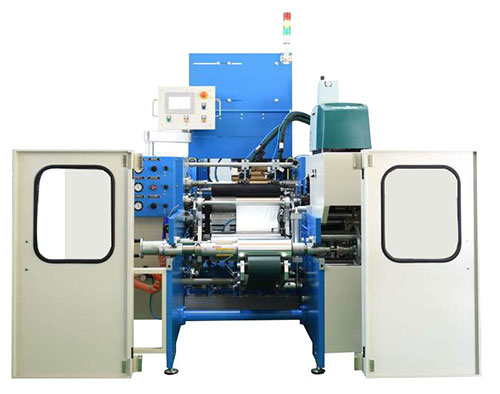 Robatech
hot-melt glue
Label sticker device
for aluminum foil
Mother roll
lifting base
---
DESCRIPTION
AH-6S, the six shaft type automatic rewinding machine.
It's designed for rewind aluminum, PE and PVC cling film.
The feeding press roller is carried with precise pressure manometer and regulating valve.
Movements include automatic feeding material, automatic cutting and unloading the finished product.
This model has automatic length correcting function. It can correct the margin of product length anytime.
There are 2 type of mother roll width for AH-6S: from 250-450 mm, and from 300-500 mm.
The product length is from 3-250 meters, the finished paper core's I.D. can be appointed within 25-38 mm.
Users can choose to equip label sticker device and hot melt glue device with machine.
They will make product more perfect.
Stably fix the material on the paper core, neatly produce product with smooth edge.
Machine brings you a huge benefit in the way you need.
Welcome to consult machine with us. We will at your service.
---
SPECIFICATIONS
Model
AH-6S(250-450)
AH-6S(300-500)
Raw Material
Aluminum foil / PE.PVC food wrapping film
Capacity
(On the basis of foil roll's length within 10 meters)
30rolls/min
Mother roll core inner diameter (I.D.)
3" (76 mm)/6"(152mm)
Max mother roll diameter
700mm
Mother roll available width
250 - 450 mm
300 - 500 mm
Material thickness
9 - 20 micron
Length of the finished rolls
3 - 250 Meter
Max finished roll's diameter
80 mm
Finished paper core Length
255 - 470 mm
305 - 520 mm
Max finished roll's paper core diameter
50mm
Finished paper cores inner diameter (I.D.)
25 - 38 mm
Pressure of compressed air system
8±2atm
power supply
AC220/380/415/440V,50Hz/60Hz,3PH
Max power consumption
7.0 KW(no glue) 11kw(glue)
Dimensions L x Wx H
2450 x 2100 x 2000 mm
Net weight
2100 kg
---