Six Shafts Type
Automatic Aluminum Foil /
Cling Film Rewinder
(AH-6S)
---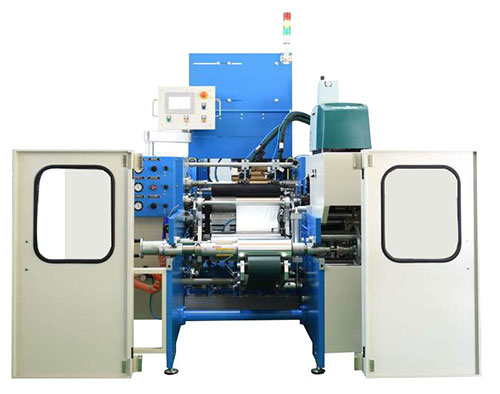 Robatech
hot-melt glue
Label sticker device
for aluminum foil
---
DESCRIPTION
AH-6S is mainly designed for producing aluminum foil and PE/PVC food wrapping film small rolls for household uses.
It's equipped with six rewinding shafts for automatic core loading, cutting, unloading and keeps continued for working.
easy to operate and always offers high capacity of producing small rolls for food wrapping.
---
SPECIFICATIONS
Model
AH-6S(250-450)
AH-6S(300-500)
Raw Material
Aluminum foil / PE.PVC food wrapping film
Mother roll outer diameter
700 mm (Max.)
Mother roll inner core diameter
3" (76 mm)
Mother roll available width
250 - 450 mm
300 - 500 mm
Material thickness
9 - 20 micron
Length of the finished products
3 - 250 Meter
Finished roll outer diameter
80 mm(Max.)
Finished paper roll inner core diameter
25 - 38 mm
Finished paper roll length
255 - 470 mm
305 - 520 mm
Speed
500 M/min (Max.)
Installed power
7 KW (no glue) / 11 KW (glue)
Compressed air
0.5 - 0.8 Mpa
Power supply
220V, 50Hz, 3ph
Dimensions L x W x H
2450 x 2100 x 2000 mm
Net weight
2500 kg
---